In Version 1.12 of Helm CONNECT, we added a new Audit History tab to Overview, on the Onboard menu, so your crews can look up the completed audits for their assets. Previously, crews could see the corrective actions assigned to their assets, but they couldn't see the audit they belonged to. This was a problem if auditors asked crew to produce a report of any audits performed on the asset.
How to view a completed audit
Crews using Helm CONNECT on an asset installation can use the Audit History tab in Overview, on the Onboard menu, to see the completed audits for their assets. From here, they can select the audit they want to view, and do the following:
View the general audit information, such as type, auditor, and date
View the findings and audit report information (read only)
Print a copy of the audit report (no watermark will appear when printing from an asset installation)
To view a completed audit
From the Onboard menu, select Overview.
Click the Audit History tab to display a list of the completed internal and external audits for the asset.

Figure 1. The new Audit History tab
Select the audit you want to view to display the audit details on two sub tabs: Findings (Figure 2) and Audit Report (Figure 3.)

Figure 2. Findings sub tab


Figure 3. Audit Report sub tab



How to manage permissions
To access the Audit History tab, a role must include the following permissions: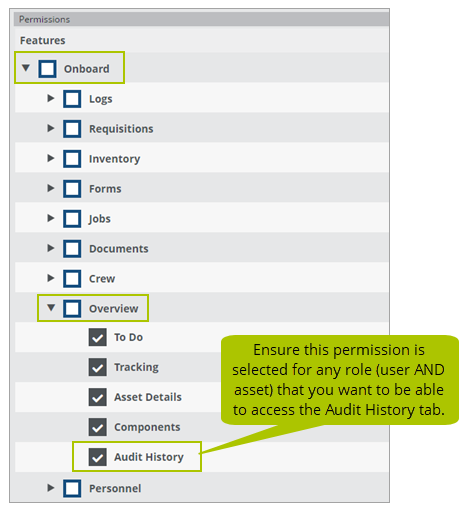 NoteBoth the asset role and the appropriate user role must include permission to the Audit History tab.
A few things to keep in mind
There are slight differences between the Audit History tab you'll see from an asset installation and the one you'll see from shore:
From an asset installation: You can only view the audits for your asset, and the Asset Division and Asset filters aren't available.
From shore: You can view the audits for any asset in your division, and all the filters on the filter bar are available.