Version 1.18: Set a scheduled date for checklists and tasks
In Version 1.18, you can now set a scheduled date and time that's different from the actual due date for your tasks as well as for your inspection, maintenance, and inventory checklists. A new Unscheduled filter in Advanced Search helps you find unscheduled work easily. We also display the scheduled date information in a new column in Onboard > Logs, Onboard > Overview and Maintenance > Overview > Advanced Search to let you quickly see what's coming up. Scheduled date information also appears in checklist and task report data sources. This article walks you though all the places you can use the scheduled date feature and view scheduled date information.
Set scheduled date in checklists
If you have permission in your user role, you can set a scheduled date and time in the new Scheduled field in the header of inspection, maintenance, and inventory checklists. If a checklist hasn't been scheduled yet, you'll see Unscheduled in the checklist header.

When you click this field, the system displays the new Schedule window that lets you set both a date and a time for the checklist schedule.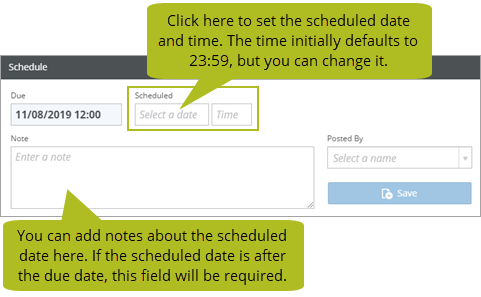 If you select a scheduled date that's after the due date, however, you'll see a yellow warning message and you'll have to enter a note about why you're scheduling the work to occur after the due date. This is useful if you want to track that work had to be deferred if, for example, you were waiting for parts.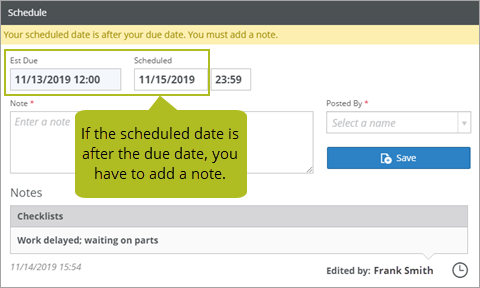 Note
Notes on scheduled dates are required only if the scheduled date occurs after the due date or if you select a name from the Posted By list when adding a scheduled date.
Set scheduled date in tasks
For tasks, you can set a scheduled date in the task window on either the Task tab or the new Schedule tab.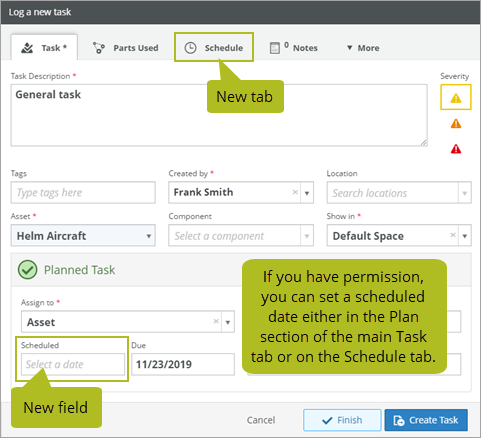 You can only set a scheduled date for tasks; the scheduled time will default to 23:59 because tasks are always considered due at the end of the day. Like checklists, if you schedule a task after its due date, you'll have to enter a note to explain why.
Scheduled date visibility
On the Maintenance > Overview > Advanced Search tab, we added an Unscheduled filter so you can find unscheduled checklists and tasks easily.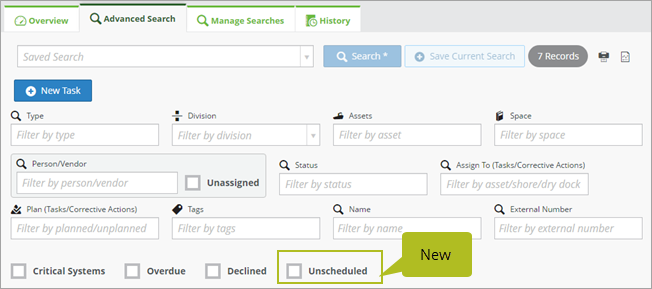 We also added a Scheduled In column to the list view in Onboard > Logs, Onboard > Overview, and Maintenance > Overview > Advanced Search. If a checklist or task has a scheduled date, it'll appear in this column. If the scheduled date has passed, it'll be displayed in orange text. Items are sorted and categorized based on which date occurs first, regardless of whether it's a scheduled date or a due date.

The Onboard > Logs card view displays both the scheduled date (if one exists) and the due date. If the scheduled date has passed, Overdue is displayed in orange text as well.

Scheduled dates in history
In history, the scheduled date appears in the header for completed checklists, and in the Plan section for completed tasks. If you have permission to set the scheduled date and correct history, you can edit the scheduled date, and any changes you make will be tracked in the change log.
More about this feature
The scheduled date is set in the time zone of the person who creates it and doesn't change if someone views it from a different time zone. For example, if you set a checklist's scheduled date as Dec 1, 2019 at 2:00 p.m., that is what it will be, no matter what location you view it from.
The new scheduled date feature is not currently available for corrective actions, forms, or audits.
New permission settings
If you subscribe to Helm CONNECT Maintenance, this feature will be available automatically when you update to Version 1.18.
In Setup > Users > Roles, we added a new role permission under Maintenance > Settings so you can manage who can set scheduled dates. If your user role doesn't have this permission, you'll be able to see the scheduled date, but you won't be able to change it.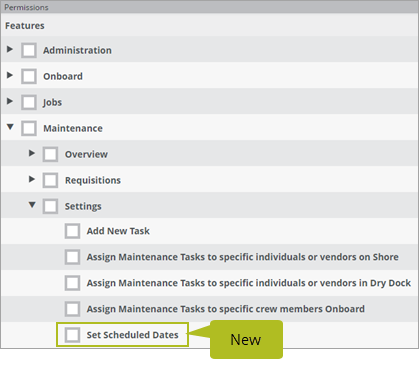 Changes to reports for this feature
We added a Scheduled Date field to the following report data sources:
Inspection Checklists
Inventory Checklists
Maintenance Checklists
Tasks
For the checklist report data sources, we also added Scheduled Date to the Filter On list.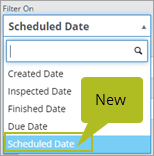 Important note
We'll automatically migrate any existing reports to use the updated data sources. If you export these reports from Helm CONNECT for use with external systems, such as Excel or PowerBI, you'll probably have to update your queries to accommodate the new Scheduled Date field. If you have any questions, please contact your account manager.